Are you tired of using your Teflon pans in the kitchen? While Teflon has been popular for many years now, so many people like yourself are looking to get away from the chemicals that are used in Teflon pans. A few people are nervous that non-Teflon pans will make their foods stick, but we are here to tell you that you have so many incredible options. So, if you are finally ready to toss your Teflon in the trash, you must check out all the other amazing skillet options.
What is Teflon?
Before we get into all the other amazing skillet options, we thought we would share what Teflon really is. This way you know exactly what you are using when you place food inside a Teflon pan. Every Teflon pan is coated with a material called polytetrafluorethylene, which is more commonly called PTFE. This synthetic chemical is made from fluorine and carbon atoms. Teflon has been around since the 1930s and it has long created the nonstick surface so many people love. 
We mentioned above that many people are looking for other options when it comes to the pans they are using in their kitchen. Almost everyone wants to leave the chemicals behind and use pots and pans that still have a nonstick quality. Thankfully, we do have a few incredible options you will love.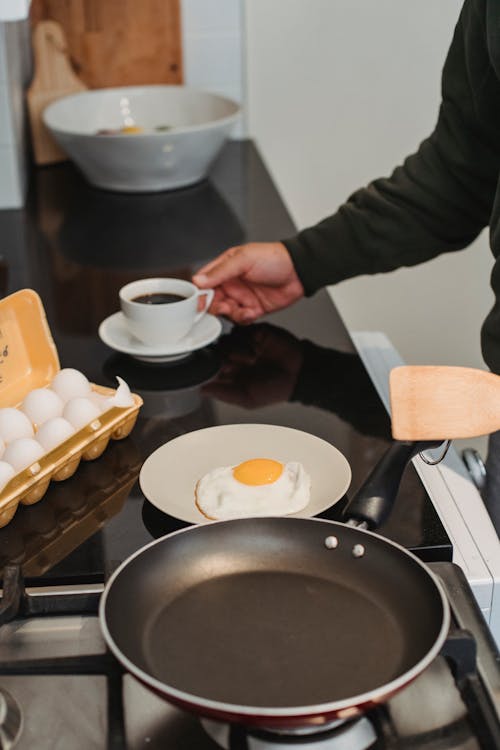 Cast Iron Pans
Cast iron has been around for many years. In fact, if you went into your grandmother's kitchen, you may find a cast iron pan from her grandmother's kitchen! This material has gotten a bad rap over the years, because people think it is difficult to use. However, once you get to used to using cast iron, you will realize why it was the material of choice all those years ago!
A cast iron pan will never leach any chemicals into your foods. Iron is the only thing released from these pans and you can always use a little extra iron in your diet. 
These pans are quite durable and will last forever if you take care of them properly. It is common for foods to stick to cast iron pans if the pan has not been seasoned properly. If you decide to use cast iron instead of Teflon, you must take the time to season your new pan. Then you must make sure it stays shiny and seasoned after every use. Yes, you may still have some stuck foods on it, but they will be minimal if your cast iron pan is seasoned properly. 
Stainless Steel Pans
Stainless steel skillets, and other pots, are normally considered the best when it comes to cooking. However, there is nothing you can do to create a nonstick surface in these pans. There are no seasoning methods to use. The only way you can keep foods from sticking in stainless steel pans is to use a lot of cooking oil or water while cooking. 
We don't want to deter you from choosing stainless steel pans when you want to toss your Teflon pans. However, we want to make sure you understand that you must cook your foods a little differently when you use these pans. Especially since you want clean-up to be easier too. 
Thermolon-Coated Pans
You may be starting to panic right now, because here we are recommending another pan coated with a material. However, Thermolon-coated pans are much different than Teflon. A Thermolon pan is coated with a patented ceramic material, which is what creates the nonstick surface. The downside to this new material is there are not enough studies to actually prove this material is safe to use for the long-term. 
The items used to make the Thermolon coating are not well-known either. While it has been stated that carbon, oxygen, silica, and silicone are used for the Thermolon coating, no one is sure what other materials are in the actual coating. 
Our Recommended Skillets for When You Want to Replace Your Teflon
We understand there are so many different skillets out there to choose from. This is why we wanted to share a few of our favorites with you!
Lodge Cast Iron Pans – You can never go wrong when you purchase a Lodge cast iron pan or even pot. These skillets are quite versatile, because they can be used on the stove, in the oven, on the grill, and even on an open fire when camping. Since all Lodge cast iron products are available pre-seasoned, you never need to spend hours seasoning your pan before using it. 

WaxonWare Granite Ceramic Nonstick Frying Pan – If you are looking for a skillet that your eggs will slide right out of in the morning, this granite ceramic skillet is perfect. The surface of this skillet does not contain any PTFE, PFOA, APEO, or any other harmful chemicals. While this skillet states it can be washed in the dishwasher, we recommend only washing it by hand for the best results. 

Nonstick Ceramic Copper Fry Pan – Some people love the benefits of a little extra copper in their food and that is where this nonstick skillet can help. The copper surface heats quickly, and retains heat, so your food cooks evenly and fast. Since the foods slide right out of this pan, cleanup is always a breeze. 

GreenPan Lima Ceramic Nonstick Fry Pan – Some ceramic fry pans make it difficult to cook foods at higher temperatures, because the ceramic coating starts to wear off. You will never need to worry about that happening when you use this fry pan, because it has been designed to handle those higher temperatures. 
Don't stress if you are ready to replace your Teflon for another skillet, because there are so many incredible options out there for you to choose from! We recommend you choose a pan that has features that will work well for you and your cooking needs. After all, not every person loves the same types of pans, which is why there are always so many to choose from.