If you are like me who likes to try new things with food but doesn't like to waste time chopping vegetables using the traditional method then you would know the value of a good mandoline slicer.
A mandoline slicer is a must-have utensil for your kitchen. It saves both your time and energy and allows you to do more than just cooking, it helps you be creative with your food. It makes the meal-making process much smoother and more enjoyable at the same time.
What do you mean by a Mandoline Slicer?
For those who don't know about mandoline slicers here is a quick preview

A mandoline slicer is a device that typically consists of a flat surface with a sharp blade attached to it that allows you to swiftly, accurately, and (hopefully) securely slice vegetables and fruits. All you have to do is to place the object on it and simply slide that object over the blade back and forth, and your beautiful, consistent slices appear below the slicer.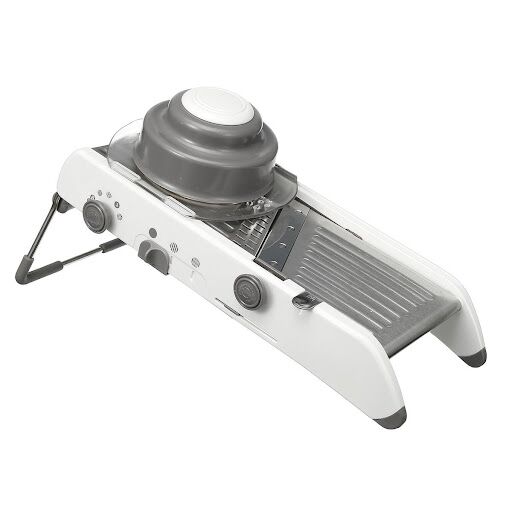 Types of Mandoline Slicer
Depending upon the manufacturers and the type of region they are sold in, these are the types of Mandoline slicers available in the market. We have tried to classify them into three categories:
Large and bulky Mandoline Slicers:

Often known for their large and bulky designs these mandoline slicers provide the most precise thickness levels.

French mandolines are a very good example of these types of Mandoline Slicers.
Simple and Slim Mandoline Slicers:

Slim Mandoline slicers on the other hand are much easier to set up and are often preferred by professionals for their less bulky designs and design features. These slicers offer you a variety of thickness levels, but they frequently rely on an unlabelled dial, making it difficult to duplicate from job to job.
V-Shaped Mandoline Slicers:

V-Shaped Mandoline Slices on the other hand, unlike both slim and bulky mandoline slicers, have a V-shaped blade that cuts the food on either side. This allows it to create less drag during vegetable cutting and thus providing a much smoother cutting experience.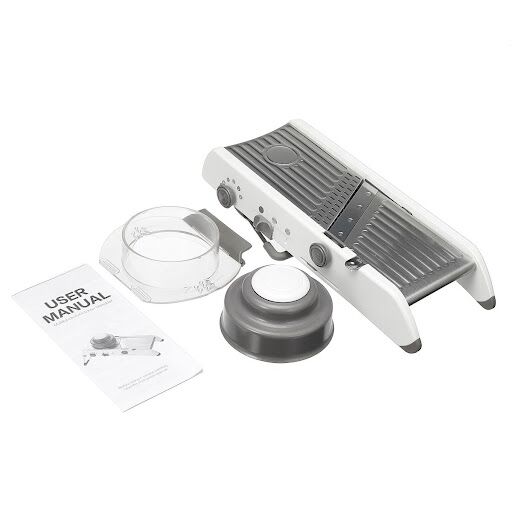 Adjustable Mandoline Slicer
This mandoline slicer is adjustable which means that you can easily adjust its blade according to your needs. Being a professional mandoline slicer with a simple and safe design. You'll wonder why you didn't attempt shredding, slicing, or making wavy slices with this mandoline slicer before.
You can slice various vegetables such as radish, sweet potatoes, tomatoes, cucumbers, cabbages, and eggplants, etc. easily and swiftly in 18 various cutting shapes and thicknesses with this adjustable mandoline slicer.
Vegetables can be sliced in thicknesses ranging from 1mm to 7mm.
Also, different sorts of precise cutting choices are available with the adjustable mandoline slicer. There is no need to replace blades if you want to modify the thickness. With the button on the side, you can vary the thickness level and save a lot of time while slicing your vegetables.
Specification
Color Available:

Silver, Grey, White

Material:

ABS + 304 stainless steel

Size:

39 x 12.5 cm / 15 x 5 inch (L) x (W) (appr.)
Additional information
Weight:

1202 lbs

Dimensions:

1.00 × 1.00 × 1.00 in
Until now we have seen what mandoline slicers are and the different types of mandoline slicers that are available. We also discussed adjustable mandoline slicers which come with a variety of features like, simple and safe design, adjustable slices ranging from 1mm to 7mm thickness, and much more in an affordable package.
In a nutshell, if you want an easy-to-use, simple yet professional mandoline slicer then our adjustable mandoline slicer is the best pick for you.
Make your life easier. Get your Adjustable Mandoline slicer now!!!